This side is dedicated " Luebeck Association " in the USA!
It consists of a group by members of the US Army the 1955-1965 or longer in Luebeck bright lake, in the forcing cunning ruse and Juergen Wullenweverstrasse stationed was, in the latter was also the American club.
Some our US soldiers naturally used the opportunity to let taste a beautiful Luebeckerin to fish themselves over marry to celebrate many beautiful celebrations and the " Asbach age-old " our beer loved myself, that is clear.
Many friendships were attached , also with the native ones, which one intends to maintain.
Purpose " Luebeck Association " in the United States is it to find further US comrades, who were stationed in Luebeck or environment, in addition, contacts with acquaintance and native ones to maintain.
From 14 July - 20. Approx. 60 persons " Luebeck Association " met July 2000 with their wives in Luebeck. They came from Californien, Texas,Florida and from other states of the USA to admire perhaps for the last time in order our beautiful city Luebeck because to them all Luebeck into their hearts closed and it were never forgotten.
In 2 evenings I was allowed to participate in the meeting, these 2 evenings I will never forget, I was taken up so cordially.
For the two unforgotten evenings, which could be I thereby, I would like to cordially thank you " Luebeck Association ", it was marvelous.
In the year 1959 James A. Shaw married its wife Heinke, a genuine Luebeckerin. It was the first official military wedding in Luebeck, other one followed.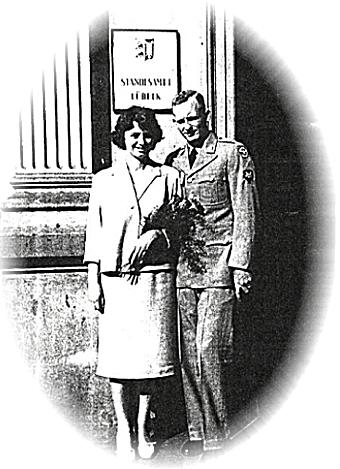 (c) 2000 by Jim Shaw
The rumor goes around that Jim repaired canteens in Luebeck!
Today is Jim Shaw president " Luebeck Association " .
And here the Homepage of " The Luebeck Association is in the USA " !
There is further information on the own Homepage!
---
This side was provided in co-operation with Dieter Badenbach in Lund (Sweden).
E-Mail: dieter.badenbach@telia.com
Internet: http://www.lunds-trafik.just.nu
---